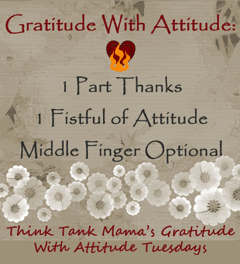 I am playing again in
Think Tank Momma's Gratitude With Attitude
. Yes I know I missed Tuesday, but, I'm still playing. Read on, and you will find out why.
Dear Old Bitch at Costco,
It totally
fucking
skeeved me out when you grabbed my infant daughter's hand in yours, which also happened to be holding a kleenex. I felt like an ass and almost forgave you when I thought you were crying, because you kept wiping your eyes with your tissue. Now that my infant daughter is the first of my six children (and only at this point) to come down with pink eye, I want to kick your ass.
Sincerely,
Don't touch my kids. And if you're sick? Keep your
fucking
hands off my kids.
***************
Dear Tree Guy,
You are about to embark on climbing a seriously tall, dead, rotten tree with spikes...AND I FIND OUT THAT YOU LIED ABOUT YOUR LICENSE? Have you recently been diagnosed with a life threatening disease and you figure that falling to your death and suing me would be a better long term safety net for your family's future? I can't think of any other reason to be that
fucking
stupid.
Sincerely,
The "Get
the fuck
off this property!" bitch.
***************
Dear Clearwire,
The people who work in your technical support department are fucktards. My kid has pink eye. My roof is leaking inside my daughter's closet again. There is a tree about to fall completely on my house. AND YOU PICK NOW TO OUTSOURCE MY LACK OF CONNECTIVITY TO BUMBLEFUCK? Sure, go ahead, take away my email, Facebook, and bloggy life...now I'm ready to climb the frigging tree and put myself out of my misery...
fuck you very much.
Also, the reminder that my payment is *almost* a day late? After years of on time payments? Really? Did it occur to you, that if I had been able to access the internet, MY PAYMENT MIGHT HAVE BEEN ON TIME?
At least half of the people who work for you are
fucking
morons, and the rest of the people, are picking up their slack and dealing with the bad attitude that sheer incompetence brings out in me...those (3 people...maybe?) deserve a bonus.
Also, do the stupid people know they're stupid? It really rankles when the least helpful person in the whole world says, "Thank you for choosing Clearwire. I hope we have exceeded your expectations today." Are they referring to my expectations for the future of mankind?
Sincerely,
Oh
, sure
I would
love
to upgrade to your phone service package.