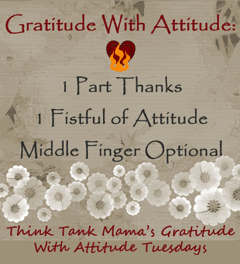 Dear Loving Family,
Thank you, it was wonderful that you talked to me about what to put in the Easter eggs for Hercules. I even lowered my standards and agreed to let him have conventional stuff as long as it was free of red dye, HFCS, and gluten. Sweetarts, Skittles, and Nerds DO NOT meet those criteria.
We talked about gluten free jelly beans, and gummy worms, lollipops and the like. We talked about where to find them, etc. Imagine my surprise when I am being pulled in ten different directions only to find my son chowing down on Nerds.
It isn't about you having to meeting H's needs, I don't expect that, it is about *telling me* you had changed the game plan. The next four hours that he spent as the 'child from hell?' Remember how impatient and pissy his behavior made you? Uh, it was your fucking fault. The fact that my day was ruined by it, lingering long into the night? That really sucked. It sucks even more that you blame him.
Next year when I tell you that we can't come, I hope you'll understand.
Sincerely,
WHY???!!!
***************
Dear The Little Lady,
You are going to be two in July. Sleep through the night already!!! Being up all night, every night is kicking my ass. You wake up your sister, who takes over when you finally sleep, and the combination is totally draining me. This two hours of sleep a night that isn't even consecutive, is rendering me useless.
I can't function like this. Prisoners of war have been broken by less intense sleep deprivation. Give me a break. I'm not sure how much longer I can go on like this.
Love,
Mommy, Momma, Mommia, MOMMMMMMYYYYYYYYY!!!!!!!!!!!!!!!!!!!!!
***************
Come play along. Swing by
Think Tank Momma's site
, grab the code, write your post, link it in her comments sections, and show her some comment love, to let her know you've done so. It's that easy!